New Zealand - "Travel Local"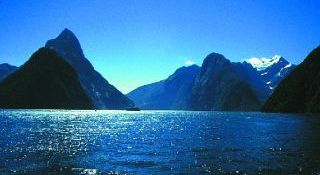 New Zealand appears to have eradicated the coronavirus for now after health officials said the last known infected person has recovered. This means New Zealanders can now welcome throngs of fans back into sports stadiums, embrace crowded concerts, remove seating restrictions from flights, and Travel! But the borders remain closed, and there is still no firm date for a much-anticipated trans-Tasman bubble, which would open up travel with neighboring Australia. That's left Queenstown - usually one of New Zealand's most iconic tourist attractions - struggling. Since there are no foreign tourists there at the moment, it might be a good place to visit as there is no traffic, and the lake and mountains are certainly beautiful.
There are many places to see and experience in New Zealand, and now is an exellent time for New Zealanders to explore their own country - and help get the economy going again as well. The official Tourism New Zealand website has some very good information on both the North Island and the South Island. If you've never been across the Cook Strait, now might be a good time to see how the other half lives.
Another web site focuses specifically on the Southland from Milford Sound down to Stewart Island and the Catlins, and foregoes the adrenaline fueled activities of Queenstown.
If you are unaware of what New Zealand has to offer tourists from other parts of the world, This Ultimate Travel Guide Video posted on YouTube gives an overall view of New Zealand. It is geared more towards people who have little knowledge of the country.
Another catch-all video tour highlights The 10 Best Places to Visit in New Zealand.
If you've never been to the South Island, this South Island Road Trip video takes you through some of the more picturesque places.
Aside from the beautiful countryside and scenic mountains and lakes, New Zealand also has several major cities. Auckland is said to be a mixture of San Francisco, Seattle, and Tokyo. Wellington is the Southern-most capital city in the world.
Several years ago, one of our ATC member couples from Utah made a 3 week trip through Australia and New Zealand, staying with ATC members and at several hostels. They compiled a picture filled travelogue of their voyage. Click Here to see some of the highlights and what they experienced during the New Zealand portion of their trip.
Points of Interest from other posts:
Car Museums
At the South End of New Zealand's South Island is Bill Richardson's Transport World in Invercargill. With more than 300 classic vehicles, including many trucks and motercycles, it is the largest private automotive museum collection of its type in the world.
The Southward Car Museum in Wellington New Zealand has a collection of over 400 vehicles and 3 aircraft. Hundreds and hundreds of cars in almost pristine condition, from every era of motoring.
Aviation Museums
Omaka Aviation Museum - Blenheim, New Zealand - The museum's collection contains a wide variety of military aircraft from the First World War as well as artifacts and personal items belonging to some of the most famous aviators of World War I, including some items of Baron Manfred von Richthofen memorabilia. (suggested by Hall-Hanks, Washington)
Wine Country
The Top 10 Wineries in New Zealand
If you have any other links, places, etc. that you would like to share, please let us know.
---
powered by yesware - copyright The Affordable Travel Club - All Rights Reserved