Wine Country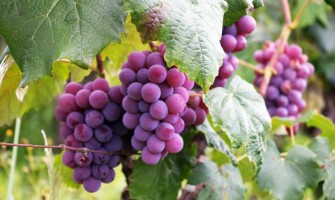 Do you remember that episode of "I Love Lucy" where they go to Italy and Lucy auditions for a movie by stomping grapes at a vineyard? Back in the 50's, all good wine came from Europe, and wines from the Americas were considered inferior. But at the Paris Wine Tasting of 1976, Chardonnay and Cabernet Sauvignon from California's Napa Valley beat the French wines in a blind competition for the first time. This gave a big boost to wineries in the Napa and Sonoma Valleys, and new wineries began popping up all over the West Coast. Today, 90% of US wine production occurs in California, Oregon and Washington, but there are wineries in every state.
California
Napa Valley is the introduction to California wine country and, with over 400 wineries to choose from, it can be overwhelming to plan a visit. Stretching from Napa north to Calistoga, it is known for its world-class Chardonnay, Merlot and Cabernet Sauvignon. Beringer Vineyards is a large winery in St. Helena, California. Founded in 1876, Beringer is the oldest continuously operating winery in the Napa Valley. The Robert Mondavi winery (Woodridge) is also here.
Sonoma County - just West of Napa Valley over the Enchanted Hills, and stretching from Sonoma through Santa Rosa on up to Healdsburg, the Sonoma Valley has 425 wineries. It is known for its Pinot Noir, Cabernet Sauvignon, and Chardonnay. Some of the better known wineries are Francis Ford Coppola, Kendall-Jackson, Martinelli and Buena Vista. Click Here for Sonoma Magazine's list.
Paso Robles Wine Country - Halfway between San Francisco and Los Angeles along California's Central Coast. 200+ wineries, plus beaches, hiking, cycling, golf, and the iconic Hearst Castle nearby. Pinot Noir, Cabernet Sauvignon, Merlot, Syrah, Viognier, Roussanne and Zinfandel. Paso Robles had only a cameo in the movie "Sideways", but it helped make Pinot Noir from this region a top seller. Click Here for some ideas if you're going to the area.
California's Central Valley is where big agriculture flourishes, the kind that ends up on your grocery shelf. Olives, tomatoes, walnuts, pistachios - you name it, and they probably grow it here. Practically all of our Sun Maid raisins come from Thompson Seedless grapes grown south of Modesto. This is also where you will find Gallo, the largest family owned wine producer in the US, which markets several brands names you are probably familiar with: Gallo, Barefoot, Carlo Rossi and Turning Leaf. But there are also some smaller family owned wineries. No, it is not as scenic as the other wine regions, but it is efficient and is well suited to give us those inexpensive bottom shelf wines that still have pretty good flavor.
Oregon
Moving up the coast, Oregon has a much cooler climate than any of California's wine regions, making it perfect for growing not just Pinot Noir, but also Riesling, Chardonnay, and Gamay. The premier wine region within Oregon is the Willamette Valley, which has gained a worldwide reputation for its stellar Pinot Noir wines. Interestingly, Willamette Valley is located along the same latitude as France's famed Burgundy region, which is also famed for its Pinot Noir.
Washington State
The state has a total of 14 different American Viticultural Areas (AVAs), with some of the more popular regions for wine production being Walla Walla and the Columbia Valley. Since the 1960s, the state has rapidly increased its wine production capabilities, with wine exports going to more than 40 countries around the world. Washington is now No. 2 in the nation in terms of annual wine production, trailing only California. Popular grapes include Riesling, Chardonnay, Merlot, and Syrah. There are also several wineries in the Seattle area, including Chateau Ste. Michelle and Columbia Winery in Woodenville.
Idaho
Along with Washington and Oregon, the Snake River Valley in Idaho is another good location for wineries in the Pacific Northwest. This region is perfect for the outdoorsy wine enthusiast. Enjoy a hike through the stunning landscape and reward yourself with one of the region's standout white wine varietals such as Riesling or Viognier. Introduce yourself to all that Snake River Valley has to offer with one of the region's local favorites, Bitner Vineyards. Personally, I like the Riesling from Ste. Chapelle, which you can sometimes find at the supermarket.
New York State
There are two regions within New York State that have attracted the attention of wine aficionados - the Finger Lakes region and the North Fork. The North Fork is located in nearly the same part of Long Island as the famous Hamptons, which means that they attract many visitors and vacationers during the peak summer months. Further upstate, the Finger Lakes region is arguably the home of East Coast winemaking. A must-see destination on any trip to the Finger Lakes region is the winery of Dr. Konstantin Frank, who is credited with introducing grapes like Riesling and Gewurztraminer to the region. Overall, there are more than 100 wineries in the Finger Lakes region.
Virginia
The most famous wine region within Virginia is located around the historic town of Charlottesville, perhaps best known as the home of Thomas Jefferson's Monticello. The state is known for its nearly 200-day growing season, as well as the presence of premier wineries such as Barboursville Vineyards and Linden Vineyards. Winegrowing has been part of Virginia's tradition since the Colonial era.
Texas
Everything is bigger in Texas, and that includes the Texas Hill Country wine region, which spans 9 million acres, making it the second-largest wine region in the nation. The dry, sunny Texas Hill Country climate is well suited for growing grapes like Tempranillo, Syrah, Albarino, Cabernet Sauvignon, and Zinfandel. The Texas Hill Country is generally used to refer to all land in the winegrowing region north of San Antonio and west of Austin.
Pennsylvania
The premier winegrowing region within Pennsylvania benefits from being situated between Lake Erie to the North and the Atlantic Ocean to the East. The state is now home to nearly 120 wineries and 5 different American Viticultural Areas (AVAs). One particularly noteworthy winery within the state is Waltz Vineyards.
Ohio
The winemaking tradition in Ohio extends all the way back to the early 1820s. From 1823 to the mid-1860s, Ohio was home to one of the most popular wine industries in the nation and became particularly famous for its plantings of the Catawba grape. However, by the Prohibition Era, Ohio's wine industry was headed on a downward trajectory and has never fully recovered, despite its proud tradition. One noteworthy winery within Ohio is Markko Vineyards. Overall, there are more than 110 wineries within Ohio.
Michigan
The Lake Michigan Shore region is not only scenic - it is also home to a winegrowing region that has been called the "Napa of the Midwest." The Lake Effect from Lake Michigan is what helps to moderate the climate of the region and produce such exceptionally complex wines. A local favorite tradition is to pair locally grown cheese with wines from local vineyards. Given the state's colder climate, grapes such as the Austrian Blaufrankisch grape are able to thrive in Michigan.
Missouri
Missouri is perhaps most famous for its "Missouri Rhineland" - a winegrowing region first settled by German immigrants more than a century ago. The first German immigrant winemakers appeared in 1837. By the 1880s, Missouri was the No. 1 wine-growing region in the nation - the Napa Valley of its day. Today, the state boasts more than 90 different wineries, 4 different AVAs, and even a "state grape" (the Norton grape).
However, these are not the only U.S. states with noteworthy wine regions. North Carolina (130 wineries), Colorado (106 wineries) and Illinois (100 wineries) all just narrowly missed being included on the list. And just about every frequent traveler has some favorite, completely off-the-radar region that produces great wines. It's no longer uncommon for food & wine magazines to devote feature stories to the great wines of states like Idaho or Arizona.
And for our Canadian friends, yes there are also wineries in British Columbia, Ontario and Quebec.
If you are planning a trip Down Under, Australia and New Zealand both have an abundance of wineries. "Yellow Tail" wine from Australia is the most imported wine brand into the US, exceeding wines from Italy and France.
---
powered by yesware - copyright The Affordable Travel Club - All Rights Reserved