RECENT TOPICS
Covid-19


New Zealand - "Travel Local"


Milepost


Car Museums


Aviation Museums


Art and Specialty Museums


Science Museums


History Museums


The Wild Wild West


National Parks of the US


Railroad Museums


National Monuments and Memorials


Landmarks


Mt. St. Helens - 40 Years Ago
Wine Country


Cities of North America


---
© The Affordable Travel Club
All Rights Reserved
Art and Specialty Museums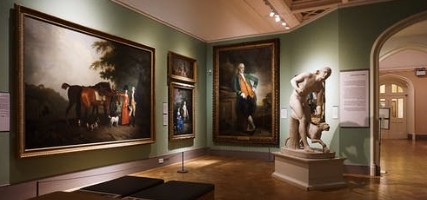 Chihuly Garden and Glass - Seattle WA - Dale Chihuly's Exhibition in the gardens, below the Space Needle and the effect that Chihuly and his team have achieved with Blown Glass is truly phenomenal and a must see if you are visiting Seattle. In addition to the Seattle Museum, there is also a large Chihuly exhibit at the Atlanta Botanical Garden and the Chihuly Bridge of Glass and the Museum of Glass in Tacoma.
The Getty Museums - Los Angeles - Spectacular museum boasts a most impressive collection by such luminaries as Van Gogh, Monet and Cezanne, along with the architectural triumph of its six buildings and gardens.
The Broad Museum - Los Angeles' newest contemporary art museum, The Broad (rhymes with "road"), houses Eli and Edythe Broad's formerly private collection of more than 2,000 works of modern art from the 1950s to the present day. The building itself is worth viewing; while some describe its architecture as "honeycomblike" or "cheese grater-ish," the undulating appearance of over 300 skylights is stunning in its uniqueness. Inside features pieces by Jeff Koons, Roy Liechtenstein, Julie Mehretu, Ed Ruscha, Andy Warhol, and the largest collection of Cindy Sherman works on view worldwide. The Broad offers free admission, so book free general admission online in advance to bypass the lines.
Metropolitan Museum of Art - New York - The largest art museum in the country, the Metropolitan Museum of Art unfolds in an enormous Beaux-Arts building fronting Central Park on Fifth Avenue. There are ten wings on the first floor alone, including the American Wing, Egyptian Art, Greek and Roman Art, Medieval Art, Arms and Armor, Arts of Africa, Oceana and the Americas, and Modern and Contemporary Art. On the second floor, you'll find European paintings and sculptures, Asian art, photography, drawings and prints, and musical instruments. After a major renovation, the Met reopened its Islamic Wing, showcasing tapestries, decorative objects, and an entire room from eighteenth-century Damascus.
Guggenheim Museum - New York - Visitors come as much to admire Frank Lloyd Wright's iconic spiral building as they do to see the incredible collection housed inside it. Wright designed the Guggenheim to break with conventional museum architecture, allowing visitors standing in the light-filled rotunda to glimpse the artwork in the galleries above and to leisurely stroll up and down the ramps while admiring the collections. Solomon R. Guggenheim founded the Guggenheim Foundation in the '30s to foster an appreciation of modern and contemporary art, and the museum here has an impressive collection of paintings by Kandinsky, Klee, Chagall, Picasso, and Mapplethorpe. Plus, it's well known for its robust calendar of excellent temporary exhibits.
Los Angeles County Museum of Art - Los Angeles - Continuously growing and expanding, LACMA is the largest art museum on the West Coast, containing some 120,000 objects that span ancient history to modern times, which are displayed in a series of buildings spread out over 20 acres. The modern art collection is especially impressive, with works by Frida Kahlo, Diego Rivera, Henri Matisse, Rene Magritte, Wassily Kandinsky, and Franz Kline. Visitors especially love Chris Burden's Urban Light sculptural installation of restored and painted cast-iron street lamps. LACMA's temporary exhibits are equally exciting.
Art Institute of Chicago - Chicago IL - The Art Institute of Chicago was founded in 1879 as both a museum and a school for the arts. Its monumental building, with a marble lobby and iconic bronze lions out front, was constructed as part of the World's Columbian Exposition and has since undergone several expansions, including the new modern wing, designed by Renzo Piano. The comprehensive collection spans history, from ancient Egyptian sarcophagi to contemporary photography. The Impressionist collection is especially extensive, with an entire room dedicated to Monet.
Museum of Fine Arts - Boston MA - The Beaux-Arts building of the Museum of Fine Arts contains an impressive collection of American works by Winslow Homer, Mary Cassatt, Edward Hopper, Georgia O'Keeffe, and Jackson Pollock. There are plenty of decorative arts, too, including Paul Revere's silver teapots and tableware. Equally outstanding is its collection of Impressionist works, which counts 37 Monets - one of the largest collections of his paintings outside of France.
Museum of Fine Arts - Houston TX - Located in Houston's Museum District, the huge Museum of Fine Arts spills over two gallery buildings, a visitor's center, sculpture garden, library, movie theater, cafe, gift shop, two schools, and two house museums. Mies van der Rohe designed many of the wings, and the Audrey Jones Beck building opened in 2000, doubling the museum's size. The MFAH covers world cultures, including art of the Americas, Asia, Africa, and Europe and has an ample collection of Renaissance and eighteenth-century paintings. It is also home to the International Center for the Arts of the Americas, a leading research institution focused on twentieth-century Latin American art.
Philadelphia Museum of Art - Philadelphia PA - The Philadelphia Museum of Art may be instantly recognizable for its appearance in Rocky (there's even a bronze Rocky statue at the bottom of the steps), but there's much more to Philadelphia's premier art museum. Julian Francis Abele, the first African-American graduate of the University of Pennsylvania's architecture school, designed the enormous Greek Classical-style building. Inside, the collection covers all major periods and styles, but it's the modern collection that is especially notable, including the world's largest collection of works by Marcel Duchamp, as well as some of Cy Twombly's monumental abstract paintings.
National Gallery of Art - Washington DC - Located on the National Mall, the National Gallery of Art was founded in the 1930s by the donations of Andrew Mellon, who established the collection with 126 paintings, including Raphael's Alba Madonna and Jan van Eyck's Annunciation, and twenty-six sculptures. Other like-minded collectors and philanthropists followed suit, paving the way for the splendid collection housed there today. Highlights include self-portraits by Rembrandt and Van Gogh, and works by European masters Rubens, Raphael, Titian, Vermeer, Ingres, Manet, Monet, Cezanne, Gauguin, Matisse, and Picasso.
The Heard Museum - Phoenix AZ = museum for the presentation, interpretation and advancement of American Indian art, emphasizing its intersection with broader artistic and cultural themes. - suggested by J Martenson - NV.
---
powered by yesware - copyright The Affordable Travel Club - All Rights Reserved