Aviation Museums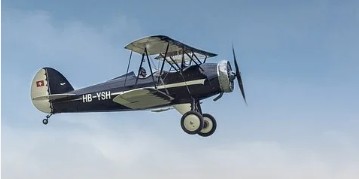 One thing all ATC members have in common is we all love to travel, but sometimes you just can't get where you want to go by automobile, train, or bus. In that case, you have to hop on a Boeing 737, Airbus A330 or some similar aircraft to reach your destination. In order to get to the common commercial airliners we fly today, many other airplanes have been built since Wilber and Orville first piloted the Wright Flyer at Kitty Hawk.
At the various aviation museums scattered across the US, you can follow what has been done over many years in man's quest for flight. Here you will find airplanes designed for commercial transportation, freight hauling, observation, military aircraft, helicopters, blimps, crop dusting, etc.
Follow along with the virtual tours at these museums to see what they have to offer, and then start planning your next trip.
Evergreen Aviation and Space Museum - McMinnville, OR - Located in the Yamhill Valley Wine Region between Portland and the Oregon Coast, the Evergreen Aviation Museum is home to Howard Hughes' Spruce Goose (actually made of birch wood). This 8 propellor flying boat is the largest wooden airplane ever built, and is roughly the same size as a Boeing 747.
Tillamook Air Museum - Tillamook OR - Located near the Oregon Coast in a huge wooden hanger built to house Navy observation blimps during World War 2, this museum houses primarily Navy aircraft from that era. It's just off Hwy 101 and easy to spot, and if you're passing through, be sure to stop at the Tillamook Cheese Factory north of town for lunch and a tour.
Museum of Flight - Seattle WA - Located at the King County International Airport (Boeing Field) south of downtown. Here you can see the Concorde, M-21 Blackbird, B17 Flying Fortress, B29 Super Fortress, B47 Stratojet, the first Boeing 747, a Boeing 707 Air Force One used by Presidents Kennedy through Nixon, and a host of other unique aircraft.
US Air Force Museum - Dayton OH - This Museum is located at Wright Patterson Air Force Base, and exhibits a wide variety of military aircraft. Some unique airplanes on displays are the XB70 Valkyrie, B17 Memphis Belle, B58 Hustler, SR-71 Blackbird, U-2 Dragon Lady, and another Air Force One used by Kennedy.
The National Naval Aviation Museum - Pensacola FL - Located on the sunny Gulf Coast, the largest Naval Aviation museum in the world houses more than 150 restored aircraft from the Navy, Marines and U.S. Coast Guard. The museum is family friendly and interactive, and you can even sit in some of the planes. The history of U.S. fought wars is the common theme in the museum, with World War II and the Vietnam War planes being some of the highlights. Try your hand at a flight simulator, catch a movie in the theater or see the famous Blue Angels practice overhead. You can easily spend a full day or two in this massive museum.
National Air and Space Museum - Washington DC - The Smithsonian Institution's most visited museum is home to the 1903 Wright Flyer, the Spirit of St. Louis, and moon rock that you can touch. A popular museum that portrays the history of aviation and space exploration, astronomy, and planetary science, with many historic planes and space objects on display. This museum has 22 exhibition galleries to explore, an IMAX theater, a planetarium, an observatory with telescopes, live demonstrations and storytelling, and 3-D simulators. Make time to see the exhibit A New Moon Rises, a photography exhibit with wild photos of the moon. A second facility is just outside Washington, D.C.: the Steven F. Udvar-Hazy Center displays the Enola Gay and a Lockheed Blackbird.
Pima Air and Space Museum - Tucson AZ - one of the world's largest non-government funded aerospace museums. The museum features a display of nearly 300 aircraft spread out over 80 acres on a campus occupying 127 acres. It has also been the home to the Arizona Aviation Hall of Fame since 1991. Aircraft on display include a Boeing B-17 Flying Fortress, Boeing B-29 Superfortress, the first prototype Boeing 777-200, Consolidated B-24 Liberator, Lockheed SR-71 Blackbird, North American F-107, and a Lockheed Constellation used by President Eisenhower.
Omaka Aviation Museum - Blenheim, New Zealand - The museum's collection contains a wide variety of military aircraft from the First World War as well as artifacts and personal items belonging to some of the most famous aviators of World War I, including some items of Baron Manfred von Richthofen memorabilia. (suggested by Hall-Hanks, Washington)
PBY Navel Air Museum - Oak Harbor WA - During WWII, The "Flying Boat" PBY Catalina aircraft were used by the US Navy to patrol coastal areas. They could land on both water and land runways, drop torpedoes, depth charges, and bombs, and defend themselves with multiple high-caliber machine guns. These unique aircraft were used all over the world, especially along coastal areas, to patrol for enemy fleets and perform rescues. This museum is dedicated to that one type of aircraft, and has 2 flight simulators where you can fly several different planes.
Enjoy these virtual tours and start making plans to see your favorites in person.
---
powered by yesware - copyright The Affordable Travel Club - All Rights Reserved