Mt. St. Helens - 40 Years Ago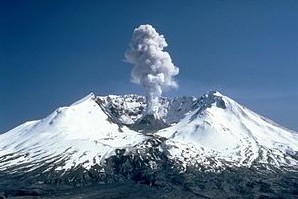 To those of us that live in the Pacific Northwest, the Cascade mountains are prominent landmarks that can be seen from British Columbia down to Northern California, and many of these peaks are volcanoes. Travelling down I-5 from the Canadian border you can see Mt. Baker, Mt. Rainier, St. Helens, Mt. Adams (sometimes), Mt. Hood, Mt. Jefferson, The 3 Sisters, Mt. Bachelor, Mt. McLaughlin, Lassen Peak, and Mt. Shasta.
Forty years ago, Mt. St. Helens erupted with the force of 24 megatons (24 million tons of TNT), sending a cloud of ash 15 miles into the atmosphere, leveling several hundred square miles of forest and killing 57 people. Several You Tube documentary videos give amazing details about this incident:
Minute by Minute: The Eruption of Mount St. Helens
Mt. St. Helens 30th Anniversary Documentary
If your travels bring you to Washington State, be sure to take the side trip off of I-5 out to the Mount St. Helens National Volcanic Monument. It is well worth the time. If you are interested in hiking at the mountain, here is a good article: Find Cool Geology at Mt. St. Helens.
---
powered by yesware - copyright The Affordable Travel Club - All Rights Reserved